BIDSTACK BIDLIEVERS INVESTOR RESEARCH SUMMARY:
Disclaimer: The contents of the research below have been compiled by long-term shareholders of Bidstack (Bidlievers) through the monitoring of publicly released and publicly discovered information. Research may be biased in favour of Bidstack and should not be used as the sole basis for any investment decision or treated as investment advice. Please do your own research (DYOR), using a wide range of information available to you and seek independent advice through a regulated financial advisor.
Shareable Link: bit.ly/bidWiki
Contents:
1. Who are Bidstack Group.
1.1 Bidstack Limited.
1.2 Fitbug / Kin Group.
1.3 Pubguard and Minimised Media Limited.
1.4 Types of game
1.5 Focusing on the gamer
1.6 The Bidstack 'Grandstand' test environment
2. What is Bidlievers and why was it created.
3. Share Price and Revenues.
3.1 History.
3.2 Revenue Analysis.
4. Funding.
4.1 History.
4.2 Cash Flow Analysis.
4.3 Future Funding Analysis.
5. Who is the CEO.
6. Employees and Headcount.
7. Advisory Board.
8. Who is holding shares.
9. What ad campaigns have Bidstack been responsible for.
10. Who are Bidstack partnering with on the Supply Side.
10.1 Electronic Arts (EA).
10.2 Codemasters.
10.3 SEGA / Sports Interactive.
10.4 Smash Mountain Studio.
10.5 Flying Squirrel Games.
10.6 InLogic Sports.
10.7 Ubisoft.
10.8 Nautilus Mobile / Jetsynthesys
11. Demand Side Partners.
12. Corporate Social Responsibility (CSR).
13. IAB Gold Standard
14. Viewability and Lumen Research
15. Competitors.
16. Impact of Coronavirus (Covid-19) and Lockdown
17. Broker coverage.
-----------------------------------------------------------------
1. Who are Bidstack Group:
1.1 Bidstack Limited
Below is a powerful explainer video from Bidstack in May 2020 to help you understand the basic proposition.
Bidstack is a provider of native in-game advertising that is dynamic, targeted and automated, serving the global video games industry across multiple platforms. Its proprietary technology is capable of inserting adverts into natural advertising space within video games.
1.2 Fitbug / Kin Group
Bidstack was founded independently in 2015 and through growth, by 2018 were looking for a way to list on the Junior AIM market of the London Stock Exchange.
Fitbug who was later renamed Kin Group had already been listed on AIM with their fitness gadgets attempting to rival the likes of Apple and Fitbit. However, they lost the battle and as demonstrated by one report in April 2017, net worth plummets from £296m to just £2m. The company became a cash shell, lying dormant, listed on AIM with money on the balance sheet but no trading operations.
In June 2018, the shell had invested £400,000 by way of a convertible loan note in 'unlisted' Bidstack and announced that it was in discussions that might lead to the acquisition of the entire issued, and to be issued, share capital of bidstack.
Come August 2018, and the Kin Group announced the proposed acquisition of Bidstack for £6.8m along with a raise of £3.5m through a placing by Peterhouse Capital. This was implemented through a reverse takeover and Kin was renamed to Bidstack Group PLC with trading on AIM resumed come September 2018 after a short suspension.
Donald Stewart, who was chairman of Kin Group, continues to remain chairman of Bidstack Group PLC today.
It's particularly important to note:
Although Bidstack was only founded in 2015, Bidstack as its known today is only fairly represented as of September 2018 in the history of the chart.
There are shareholders who were burnt from the plummet of Fitbug/Kin who may have an interest in the board of directors being unsuccessful.
1.3 Pubguard and Minimised Media Limited
August 2019, Bidstack announced the acquisition of the entire issued share capital of Minimised Media Limited, which trades under the name "Pubguard".
Bidstack's plan was to incorporate Pubguards Ad-Fraud technology into its own offering for enhanced brand safety. This comes in the form of part of its Software Development Kit (SDK)
A change-up in management was made in September 2020, where Andy Curran stepped across into the role of CEO with Alan Ngai moving across in the role of COO. Andy commented at the time: "The company has now been fully integrated into the group, ready for a relaunch, and this coupled with the recent shift in market dynamics means now is the perfect time to ramp up and scale to fulfill its massive potential for growth."
1.4 Types of Game
Bidstack focus on 3 core types of game environment:
Stadium: Animated and static creatives in pitchside boards and LED banners around a sports pitch
Racing: Typically static creatives in trackside hoardings at the start/finish line and flags throughout each race.
Open World: Cityscapes, billboards, branded vehicles, buildings, and other surfaces within virtual worlds.
1.5 Focusing on the Gamer
Bidstack makes a point of designing ads to be contextually relevant, fit the aesthetics of the games they appear in, and protect the gaming experience.
Ensuring the gamer is fully immersed in a game and not distracted by an ad, is a point that is reiterated frequently in company communications and presentations.
1.6 The Bidstack 'Grandstand' test environment
During early implementations of games, Bidstack had been using live games for testing of ads to help demonstrate effectiveness to advertisers.
In 2020, Bidstack launched their 'Grandstand' proprietary open-world gaming environment, which is now used to help drive sales and test, without needing to experiment in live games.
For more discussion about Bidstacks Grandstand environment please use
this forum
2. What is Bidlievers and why was it created:
Bidlievers.com was created as a safe space for research and discussion by genuine shareholders in Feb 2020 as a result of online bulletin boards having an influx of negativity and the constant burying of discovered information.
Bidlievers is an online forum, welcoming bears and bulls alike for healthy debate, discussion, and research. The site is monitored regularly for suspicious behavior, registrations, and in particular, individuals using multiple aliases.
The forum is broken into multiple topics in order to track certain areas of interest over time and ensure context can be kept when looking back at how a topic evolved.
Long term holders often dig deep for new public information to support their investment decisions. This is often in the form of playing the games regularly for new ads, watching online streams, monitoring app.txt files, as well as monitoring social media accounts.
Upon its launch, the site swiftly reached over 100 members. As of January 2021, the member count sits at over 300 and continues to grow.
Bidlievers run a weekly poll of sentiment of Bidstack shareholders, which can be found
here
Not sure where to start? - drop in to the Bidstack Chat and say hi to investors who can help point you in the right direction
here
3. Share Price and Revenue:
3.1 History
2018
Revenue: £316k
2019
Revenue: £140k (£5.9m had been expected by the market)
The excitement in the stock and the £5.9m 2019 target through regular promotion and the CEOs repeated phrase: "3-years-in-1", as well as Justin Waites regular coverage, is believed to have caused a sharp pump of the share price which originated at 5p at the start of 2019 and reached highs of over 35p by June. The share price gradually re-rated back through the year as confidence grew weaker and evidence of actual ad-campaigns was not meeting expectations.
Bidstacks significant miss of the £5.9m 2019 target, hurt shareholder and market confidence throughout 2020. The miss was put down to a 2019 deal that fell through at the last minute in December.
A trading update was issued on 18th Dec 2019, announcing that commitments have been delayed and it is clear that the company will not meet its revenue targets for 2019.
CEO, James Draper, explained the reasons for what had happened through a Vox Market Podcast with Justin Waite on the 24th December 2019.
Bidstack had been working on two deals in tandem. The primary deal (A) was one which they would have been able to recognise immediately by selling access to certain parts of their systems. The secondary deal (B) was one that would have been 2020 recognised, and a pure media spend deal.
On the day of the trading update, it had only become clear the previous day that they were put into a situation where they realised that they weren't going to be able to recognise the first deal (A) and it was not going to make sense in terms of long term health for either side to sign it.
The company reverted to focus on the second deal which had to be accelerated, A further announcement was made by the company on the 19th of December for a milestone advertising trading agreement with a global marketing services group. The agreement providing details of a gross media expenditure up to £10M per annum for the next two years.
The name of the other party involved in the agreement was not disclosed.
Bidstack was criticised for announcing the miss of the primary deal (A) and then confirmation of the new secondary deal (B) a day later. This was defended by the company as being due to AIM regulation requirements and the second deal having not been signed at the time the first RNS was issued.
By the end of 2019, the share price was set around the 11p mark.
2020
Revenue: >£1.5m expected
- H1 Actual: £0.3m
- H2 Estimate: > £1.2m expected
Early 2020 saw a small number of appearances by the CEO to explain the mishap, however, appearances to retail investors were non-existent for the remainder of the year as the CEO stated that they are keeping their heads down to deliver. Ultimately, ensuring that the same mistakes from the previous year were not made, and proving the companies business model to the market by hitting the target.
Shareholders equally didn't want to make the same mistake in trusting the numbers and set out to closely monitor ad campaigns in games through a number of publicly available methods; particularly through collaboration on this site.
LTH faith ultimately paid off as Bidstack confirmed in a Trading update on 17th Dec 2020 that they were on track to exceed market expectations (those set out in the Stifel Coverage) in respect to revenues for the year ending 31st Dec 2020.
Broker coverage in March 2020 stated that to achieve the £1.5m forecast, they expected a CPM of £7 and average fill rate of 1.7% with a Daily Active User (DAU) figure of 5,000. Stifel forecast gross margins at 24%, however, H1 2020 reported figured exceeded this at 28%.
Prior to the trading update the share price sat at 5.8p (16th December), which then increased to reach 7.6p by the end of the year.
2021
The share price opened with a frenzy of buying activity as the share price increased to 13p by the 6th Jan, tracing back down to around 12p a few days after.
Revenue Projection: £9m estimated
The £9m was stated in the Stifel initiation of coverage on March 9th, 2020. Whilst Bidstack made confirming statements with regards to market expectations for 2020, no such confirmation of the £9m target has yet been formally made.
The same broker coverage stated that to achieve these numbers, they forecast a steady CPM of £7, an increased fill rate of 4.4%, and a Daily Active User (DAU) figure of 15,000. Stifel forecast gross margins at 24%, however, H1 2020 reported figured exceeded this at 28%.
3.2 Revenue Analysis
2019 and H1 of 2020 revenues were mainly generated from relatively small advertiser test spends.
H2 2020 saw a step change with material revenues now being generated. Full year 2020 guidance was £1.5m trading update released December saying this is being exceeded. H1 was reported at £275k so in excess of £1.2m was achieved in H2 and this was significantly Q4 weighted from our tracking of campaigns.
H2 2020 estimated at £1.5m, 2021 revenues assumed steady growth through year to equal £9m full year guidance.
4. Funding:
4.1 History
Bidstack was listed on AIM in Sept 2018 through a reverse takeover of the Kin Group PLC, placing 58.3m shares at 6p and raising £3.5m before costs.
In May 2019, an additional 45m of shares were issued through a fundraising of £5.7m. Such funds were used to support working capital needs as well as the acquisition of Pubguard for £0.3m in August.
In June 2020, an additional placing was announced which was significantly over-subscribed and scaled back. An additional 137.5m shares were issued at a price of 4 pence per share. In addition, certain directors of the company subscribed for a total of 5m new shares raising gross proceeds of £200k.
4.2 Cash Flow Analysis
From financial information published, Bids are expected to be funded into H2 2021. Figures taken from accounts published in the interim results (18th Aug 2020 RNS) with estimate of H2 2020 & H1 2021 revenues and margin.
The cash burn may have increased a little with some recent recruitment however, offsetting this are the trading cash flows. It is the norm for advertisers to pay for a campaign before Bids pay the game developer their cut of the revenue. Assuming 1 month additional revenues on hand for this is circa £900k additional cash.
It is also worth noting that a significant proportion of the operating expense is the software development team in Latvia of circa 40 heads who have built the platform (SDK). Significant resource was deployed on this to be ready for the new console launches in late 2020. Not all of the cash burn is ongoing long term operating expense. Now the platform is live some of this cost could be trimmed in the future. Another option is the development of additional products (mentioned in the December 2020 trading updated). The additional products would in time bring their own incremental revenues to the business.
4.3 Future Funding Analysis
Should Bids chose to raise funds via a placement of shares (other options likely to be available). There is at least 6 months for the expected rapid acceleration of revenues and news flow to drive share price growth to the point this does not cause significant dilution of the 388m shares currently in issue. n.b. At the last round of funding £5m was raised, a similar amount (potentially less) should comfortably take Bids to break even.
The table below shows the dilution of 1 share to a % of its original value.
For discussion on the share price please use
this forum
For discussion on game revenues please use
this forum
5. Who is the CEO:
[last updated: 6th Jan 2021]
James Draper is the Founder and CEO of Bidstack.
As of 30 October, 2020 James has interests in 39,760,562 ordinary shares, representing 10.24% of the enlarged ordinary share capital for the company
James has also been granted options over 5,000,000 Ordinary Shares at an exercise price of £0.20 per Ordinary Share. In addition, James is deemed interested in 72,500 Ordinary Shares in accordance with section 822 (1) (a) of the Companies Act 2006.
James has been criticised by some for selling 1,500,000 ordinary shares at a price of 20 pence per share with proceeds of £300,000 on Friday 25 October 2019. This sale occurred prior to the share price declining down to 11p at the end of 2019 after announcing revenue targets being significantly missed, causing distrust amongst many shareholders throughout 2020.
Here's James appearing on a Proactive interview. Even though this was back in Feb 2020 before the period of 'radio silence' some important insights can still be drawn from the discussion today.
Discussion about the CEO and other employees can be found
here
6. Employees and Headcount.
Chairman: Donald Stewart - Chairman of Fitbug/Kin Group prior to the reverse takeover, Donald continues as non-executive chairman. Donald is a corporate lawyer and has specialised in the smaller plc space for more than 30 years
CTO: Francesco Petruzzelli - Co-founder of Bidstack and responsible for the build of the core platform
CFO: John McIntosh - Chartered accountant and experience at Sony, BBC and advertising agencies
COO: Lisa Hau - Formerly worked in Investor Relations at WPP and was an Internet & Media Equity Analyst for both Liberum and Jefferies
CMO: Fernando Faria - Prior to Bidstack, Fernando was VP of Marketing for SquaredUp, Marking Director at Freespree and a number of additional marketing roles prior to this.
CRO: Lewis Sherlock - Chief Revenue Officer with experience in sales. Lewis has worked at Xaxis, AOL and Verizon Media prior to joining.
Non-Executive Director: Mike Hayes - Former CEO of SEGA Europe and America and former Sales and Marketing Director on the board of Codemasters.
Non-Executive Director: Derek Wise - VP of Contextual Intelligence with Oracle Data Cloud.
According to Stifel coverage published in March 2020, since listing, the company had grown from just five employees to approximately 50. This was to include 25 developers in Latvia.
Also according to the same broker coverage, the company has stated plans to double headcount over the following two years in order to accelerate testing and to support the on-boarding process for the pipeline of games.
Based on the companies LinkedIn, the estimate of headcount in January 2021 is now at 70-80
7. Advisory Board:
Bidstack has surrounded themselves with the who's who of Gaming, with access to advisors across the industry.
Andrew House: Former CEO of Sony Interactive Entertainment. Credited for the success of the Sony Playstation
Bryan Neider: Former CFO and COO at Electronic Arts(EA)
Glen Calvert: COO of Fnatic, the largest esports team in the world
Ian Hetherington: Co-Founder of video game developer and publisher, Psygnosis which was acquired by Sony. Leading to the appointment of Joint Managing Director of Sony Computer Entertainment Europe
Jon Epstein: Serial entrepreneur. Roles include: Founder and CEO of GameSpot, Executive Vice President and General Manager of Media for IGN Entertainment and President of Omek Interactive
Joel Livesey: Director of partnerships, EMEA at The Trade Desk
Nav Sumner: Experienced lawyer and business development expert immersed in the video games industry. Former Head of Legal at Codemasters
Royal O'Brien: Founded multiple companies and a software and hardware engineer and patent holder
Sonalee Parekh: Corporate advisor with roles at multiple investment banks including Barclays Capital, Goldman Sachs, and Jefferies
Will Kassoy: Former CEO at AdColony, Former Senior Vice President of Global Brand Management at Activision Blizzard, growing franchises such as Tony Hawk's Pro Skater, Guitar Hero and Call of Duty
It has been confirmed by the Bidstack CEO that no monies are paid to any of the advisory board, however, they shall be issued with Options in the companies stock on the provision of its success.
For research and discussion on Advisors, please use
this forum
8. Who is holding shares:
As of 30th October the Directors of Bidstack Group PLC have interests in the following number of shares:
James Draper: 39,760,562 (10.24%)
Francesco Petruzzelli: 5,750,000 (1.48%)
Donald Stewart: 2,024,876 (0.52%)
John McIntosh: 950,000 (0.24%)
Mike Hayes: 500,000 (0.13%)
Derek Wise: 250,000 (0.06%)
Significant Shareholders (>3%):
James Draper: 39,760,562 (10.24%)
Herald Investment Management Limited: 25,000,000 (6.45%)
Bidlievers offer the ability for its members to record their shareholder totals and a summary of this unverified data can be found
here
Options:
1. Mr Stewart has an interest in 457,333 Ordinary Shares which are held by Ruscombe Management Services Limited and an interest in Warrants over 25,000 Ordinary Shares with an exercise price of £0.20 held by Ruscombe Management Services Limited. Mr Stewart has been granted options over 1,000,000 Unapproved Options at an exercise price of £0.20 per Share.
2. Mr Draper has been granted options over 5,000,000 Ordinary Shares at an exercise price of £0.20 per Ordinary Share. In addition, Mr Draper is deemed interested in 72,500 Ordinary Shares in accordance with section 822 (1) (a) of the Companies Act 2006.
3. Mr Petruzzelli has been granted options over 4,799,500 Ordinary Shares at an exercise price of £0.014 per Ordinary Share, over 7,500,000 Ordinary Shares at an exercise price of £0.06 per Ordinary Share and over 10,000,000 Ordinary Shares at an exercise price of £0.20 per Ordinary Share.
4. Mr McIntosh has been granted options over 1,000,000 Ordinary Shares at an exercise price of £0.06 per Ordinary Share. Mr McIntosh has been granted options over 500,000 EMI Shares at an exercise price of £0.20 per EMI Share.
5. Mr Hayes has been granted options over 700,000 Ordinary Shares at an exercise price of £0.1443, and over 300,000 Ordinary Shares at an exercise price of £0.20 per Ordinary Share.
6. Mr Wise has been granted options over 1,000,000 Ordinary Shares exercisable: in respect of 70% of such options at £0.3175 per Ordinary Share, and in respect of 30% of such options at £0.50 per Ordinary Share.
The latest shareholder information can be found at
bidstackgroup.com
9. What ad campaigns have Bidstack been responsible for:
[last updated: 18th Feb 2021]
Throughout 2020 we have seen ad campaigns from a growing number of large brands, especially towards the back end of 2020, in line with the sharp increase in revenues. Brands spotted through Bidlievers as well as stated prior to 2020 include:
Activision Blizzard
Audi
BBC
JBL
Football Index
MG Motors
Penguin Random House
Shell
Subway
Unilever
VW
Warner Music
boohooMAN
Burger King
BMW
Doritos
Burberry
Duracell
TaxScouts
Leasing.com
UCLAN
World of Warships
Paco Rabanne
Acer
Ladbrokes
KFC
Uber Eats
Talk Talk
UK Gov
Scottish Gov
Coca Cola
Pepsi
Converse
Sportsbet.IO
IC Markets
Klarna
Buddy Bank (UniCredit)
Zilveren Kruis
The Athletic
McDelivery
Winamax
Apple TV+ / Warner Studios
Santander
KCOM
Ironhack
2021 Campaigns Spotted:
Advert campaign spots are regularly posted against each publishers game
here
A summary of all 2021 campaigns spotted can be found
here
External site DIGACHAN.COM is also tracking an in-game advertising gallery
here
10. Who are Bidstack partnering with on the Supply Side:
10.1 Electronic Arts (EA)
The speculation has been that Bidstack has a continued working relationship with EA which is protected under an NDA.
There is a lot of evidence seen over the course of 2020 to support this speculative assumption. Please refer to the Bidlievers EA thread
here
for further information/theories including:
EA being an existing Pubguard client prior to the acquisition
Subsequent addition of Bryan Neider to the advisory board
Bidstack RNS references to EA collaboration
Bidstack assisting brands such as Duracell to get into FIFA 21
UFC 4 Amazon Prime ads seen on the ring
Bidstacks technology has, however, conclusively been used in the AAA title UFC 3 by EA Sports: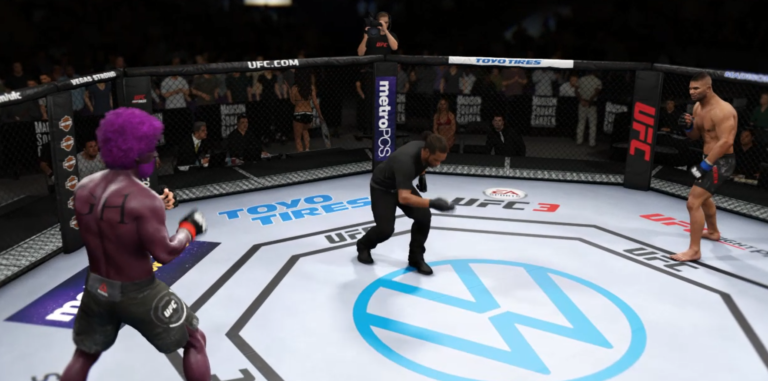 The articles below evidence the campaign with the relevant agencies and numbers attached.
Additional speculation has been made by shareholders with regards to NHL 20/21 after identifying a boohooMAN and Subway ad within the game. Whilst Bidstack provided a tweet about the game at the same point in time, there has been no confirmation that the company was involved.
For all posts relating to Electronic Arts, FIFA Shirt Sponsorship, UFC 3/4 and NHL 20/21 please follow
this forum
10.2 Codemasters
GRID
Dirt Rally 2.0
Dirt 5
Bidstacks relationship with Codemasters goes all the way back to 2018
Dec 2018: 3-year exclusive contract with Codemasters announced, for two games starting with DiRT Rally 2.0
May 2019: Further clarification that the 2nd game as part of the exclusive deal would be GRID which released in October 2019
Mar 2020: A new exclusive game announcement was made relating to an upcoming 2020 title, confirming that the game would see an implementation using Bidstacks SDK. This game was later clarified to be DIRT 5
May 2020: Clarification was made relating to the previous announcement that the game was indeed DIRT 5, which, following some delays, launched 6th November 2020
The significance of DIRT 5 was on the emphasis of the next-gen consoles (Xbox Series X and Playstation 5). DIRT 5 was the first racing game to be confirmed for the all-new Xbox Series X. DIRT 5 is also set to be available on Google Stadia in early 2021.
Nov 2020: Take-Two Interactive announce that they have reached an agreement to acquire Codemasters for approx £759m ($994m) with expected completion in Q1 of 2021.
Dec 2020: In a surprise twist, Electronic Arts (EA), announce that they have reached a counter agreement for the takeover for an implied enterprise value of $1.2 billion, with expected completion in Q1 of 2021.
A takeover of Codemasters by Electronic Arts could be a great thing for Bidstack, providing them with another route into this AAA game publisher. However, it should be of note, that risks are also present and EA could take the company in a direction away from Bidstack. The agreement for DiRT 2.0 and GRID will expire in December 2021. There has been no mention by Bidstack of the duration for the exclusive agreement of DIRT 5.
For all posts relating to Codemasters, DiRT Rally 2.0, DIRT 5, and GRID, please follow
this forum
10.3 SEGA / Sports Interactive
Football Manager 18/19/20/21
Bidstack owes a lot to SEGA (Publisher) and Sports Interactive (Developer) for their break into in-game advertising. Their strong relationship allows them to continue to innovate and lead the way through their Football Manager games (previously Championship Manager).
Bidstack had exclusive rights to serve native in-game ads within Football Manager 2018 and 2019. The football game, allows Bidstack to immerse brands onto the hoardings at the side of the football pitch, without breaking player immersion and reflecting the experience one would have in the real world.
As of September 2019, the company announced a new exclusive 3-year extension, allowing Bidstack to place ads in Football Manager 2020, 2021 and 2022.
In September 2020, Football Manager was offered for free as part of a new launch on the Epic Games store, resulting in over a million downloads in just 3 days.
In November 2020, Football Manager 2021 was also released, allowing Bidstack to monopolise on ad inventory through multiple active versions of the game. By January 2021, the game had topped 1 million sales in under two months to become the
fastest-selling entry in the franchise.
The relationship between Bidstack and Sports Interactive is so strong that they both share the same headquarters at the Here East Plexal campus.
For all posts relating to Sports Interactive / SEGA and Football Manager, please follow
this forum
10.4 Smash Mountain Studio
In June 2020, a discovery was made of Bidstack banners appearing in a new Jiu-Jitsu game, by Brazilian developer Smash Mountain Studio.
The game was and remains to be, in BETA testing with early access available to players on Android devices.
Whilst it's never been formally announced by Bidstack, the game has been announced by Smash Mountain themselves, with Bidstack featured.
For all posts relating to Smash Mountain Studio and BEJJ please follow
this thread
10.5 Flying Squirrel Games
Dirt Trackin 2: Sprint Cars
This game was spotted to feature as a very short clip within one of Bidstacks promo videos and followed by Bidlievers. This is a mobile game whos developer has been noticed at experimenting with multiple in-game advertising providers, including Bidstack.
Some large campaigns have been spotted within this game including boohooMAN.com and Acer
For all posts relating to Flying Squirrel Games and Dirt Trackin please follow
this thread
10.6 InLogic Sports
InLogic and their mobile game Football Cup 2020, was first discovered by Bidlievers in August 2020 through the discovery of Bidstack appearing in the developers app-ads.txt file.
In October, Bidstack officially announced the tie-up and a number of ad-campaigns have been spotted since the launch including boohooMAN, BMW, Burger King, and Buddy Bank
Here are a few video clips showing the implementation:
For all posts relating to InLogic Sports and Football Cup, please follow
this forum
10.7 Ubisoft
Whilst Bidlievers had been speculating and anticipating the possibility of Bidstack being involved in Hyper Scape for sometime before, in Sept 2020, Bidstack formally announced an exclusive partnership agreement with Ubisoft to deliver native in-game advertising for Hyper Scape, its futuristic, free-to-play, urban battle royale.
The game was officially launched in August 2020, and even after the announcement, no signs of actual ad campaigns had been noticed by Bidliever observers.
It was December 10th, 2020, when a Bidliever spotted the first Ad-Campaign, featuring Burberry all over the game.
For all posts relating to Ubisoft and Hyper Scape, please follow
this forum
10.8 Nautilus Mobile /Jetsynthesys
It was the 23rd of September 2020 when Bidstack announced their exclusive in-game advertising partnership with Nautilus Mobile, creators of the hugely popular Real Cricket series.
Shortly after, on 5th October 2020, Jetsynthesys announced their acquisition of Nautilus, providing a further boost to the success of the game, and in turn Bidstack's chances of ad impressions.
Since the launch, multiple, high impacting campaigns have been seen across different regions.
For all posts relating to Nautilus Mobile / Jet Jetsynthesys and Real Cricket, please follow
this forum
11. Demand Side Partners:
For discussion and research on any of Bidstacks demand partners please use this
forum
12. Corporate Social Responsibility (CSR):
In August 2020, Bidstack
announced
that a three-way alliance had been made between Bidstack, Norwich City and BADU sports.
The alliance will see Bidstack supporting BADU Sports students with the opportunity to attend, train and learn from various teams on the corporate and performance side of Norwich City Football Club.
As a mark of the partnership, BADU's logo features on the Canaries' home and third kits, whilst Bidstack's logo features on the away kit
"Bidstack gifting the bulk of the Partnership rights to BADU Sports, and presenting Norwich City the opportunity to be a part of their story is remarkable. We cannot wait to get started with Nana Badu and his team and look forward to creating some unforgettable experiences and memories."' - Ben Tunnell, Norwich City Football Club's Head of Commercial Development.
The sponsorship would have come at a cost to the company, and some shareholders were not happy that it followed a fundraise and share dilution at just 4p. However, the alliance delivers something positive back into the community and is a trait that many large corporations, such as large publishers, may look for in their partners.
For all discussion about Bidstacks Corporate Social Responsibility (CSR) policy please use
this forum
13. IAB Gold Standard:
Bidstack announced on the 16th June 2020, that they have received the Internet Advertising Bureau's (IAB's) Gold Standard certificate 1.1.
The IAB was launched in 2017 and is the UK industry trade body for digital advertising, as the UK's response to improve standards in digital advertising. The Gold Standard Certificate is centered around three key areas: reducing ad fraud, improving the digital advertising experience and increasing brand safety. Gold Standard 1.1 was released in April 2019.
James Draper (CEO) commented: "We continue to make good progress in pioneering the entirely new advertising category of native in-game advertising and the IAB Gold Standard 1.1 certification is a very significant milestone for the Company in this process.
The IAB has also confirmed that we are the first multi-device in-game advertising platform to be awarded the IAB Gold Standard certification."
For Bidliever discussion on IAB and the Gold Standard certificate please use
this forum
14. Viewability and Lumen Research:
In June 2019, Bidstack
revealed
results of an independent study by Lumen Research.
Lumen Research are an attention company which have developed eye tracking software to scientifically measure the reality of attention. Instead of asking questions about what people thought they saw, Lumen's technology monitors what they actually looked at.
Results demonstrated that Bidstack adverts outperformed online browsing norms across all titles tested, in some cases by more than double
In 2020, an additional study with Lumen was commissioned and paid for by Bidstack. It was initiated on behalf of Volkswagen (VW) who wanted to better understand how the in-game adverts performed versus traditional advertising channels such as desktop display, out of home and mobile display.
The study found that 94% of gamers noticed the automotive brand's in-game ads which is 2.6x higher than standard display advertising norms (36%). The time spent looking at the ads was also 1.5x longer. The attention generated by the ads significantly outperformed a number of other advertising channels such as Desktop Display (11.5x), Mobile Display (5.5x) and Out of Home (2.5x). The in-game ads also outperformed Press and Facebook ads, although by a small margin.
Brand recall for the campaign was found to be 2.6x higher than standard norms and exposure to the ad also had a demonstrable impact on brand perceptions. In-game placement of the ad resulted in significant uplifts in perceptions of the automotive brand being affordable (31%) and in recall of the price messaging (63%). Trust and positive brand perception were also notably higher after in-game exposure to the ad.
For more discussion about viewability and Lumen Research, please use the following
forum
15. Competitors:
In-Game Advertising is not without its risks. Since monitoring this space, a number of competitors are known:
AdInMo: An Edinburgh based video game ad platform
Admix: A London based In-Game Advertising platform
Adverty: A Swedish based In-Game Advertising platform
Anzu: Claiming to be the worlds leading company. Originating in Israel, and largely operating from Germany
Gadsme: A French-based In-Game Advertising platform
Frameplay: An In-Game Advertising company, originating in Australia, and now operating from West-Coast USA
16. Impact of Coronavirus (Covid-19) and Lockdown
Bidstack announced in a trading update for the six months ending 30 June 2020, that it has seen a significant increase in demand for in-game advertising in recent months as a result of the COVID-19 pandemic and lockdown measures.
Various independent sources have also reported surges in people playing games due to the pandemic, and behaviours that are predicted in the future.
Bidstack has also worked with the UK and Scottish Governments to bring their messages to the important gaming audience
17. Broker Coverage
Broker coverage research and discussion can be found
here
September 2018: First coverage was made by Peterhouse, who were acting as the broker for Bidstack.
August 2019: Bidstack announced a move towards Stifel Nicolaus Europe as the sole broker for the organisation.
March 2020: The first Stifel coverage was initiated with a BUY rating and initial target price of 8.5p
May 2020: An additional update to coverage was made with a BUY rating and initial target of 9p
June 2020: Stifel Suspended coverage
September 2020: Stifel resumed coverage and their BUY rating and target of 8.5p
February 2021: Stifel confirmed their BUY rating and target of 8.5p
To date, no further coverage has been made; however, coverage can be checked
here